Mental health and finding therapy
Disclaimer
We have compiled this collection of information for you in cooperation with the Psychotherapeutic Outpatient Clinic for Students (PAS) and hope that it will help you a little. It may be that some information is still missing or that you have had different experiences. We apologise for that.
Unfortunately, unlike our bodies, our psyches are not routinely checked by doctors. That is why it is very important that we look after ourselves and how our psyche is doing. Especially with the psyche, it is often not easy to interpret the signs, because they are less clear than, for example, a toothache or a broken arm. In general, however, if you are unsure, it is better to go to a professional person to discuss your concerns and problems. Sometimes a single conversation with a therapist is enough to make things clearer again.
When do I need professional help?
Whether one needs professional help is often very difficult to assess, because there is no clear boundary. Most of the time, the problems and their perception are very individual. It is completely normal to be very insecure at the beginning. But it is important to take your own suffering seriously. Maybe it helps to talk about it with people you trust or to seek help from a counselling centre. At the university, for example, there is the Psychosocial Counselling Centre or the Psychotherapeutic Outpatient Clinic for Students (see below for contact details). The staff can advise you on your problems and questions and, if necessary, help you find a place in therapy.
Waiting too long is not the best idea for mental as well as physical illnesses, because mental illnesses can also get worse if left untreated.
Getting professional help does not mean going to therapy or taking medication, there will always be one (or more) conversations with the therapist at the beginning. It can be very helpful to have a person with a professional background assess the situation and give advice on how to proceed.
Link to the Psychosocial Counselling Centre (PSB):
https://www.studentenwerk-goettingen.de/en/social-and-psychosocial-counselling/psb
Link to the Psychotherapeutic Outpatient Clinic for Students (PAS):
http://www.pas.uni-goettingen.de/
How to find a therapist?
To find a therapy place, you can search online for therapists in your area and call during office hours. You can either find them online or they will be listed on the therapist's answering machine. Your family doctor's office can also be a first point of contact for psychotherapy, but you don't need a referral, you can also call a therapist directly. In the beginning, it is best to ask for an appointment for an initial consultation. It often happens that you don't get an appointment at the first practice, so don't give up, just keep trying.
The following links may be helpful in your search:
Lower Saxony doctor's directory: Here you can find all psychotherapists and psychiatrists with health insurance licences who are practising in Lower Saxony. Simply select the subject area "Psychotherapy":

In general, you can find all psychotherapists throughout Germany on the website of the Federal Chamber of Psychotherapists under the following link:

If you find it difficult to find a psychotherapist on your own or if you simply don't have the energy to call many different people, you can contact the appointment service of the Kassenärztliche Vereinigung (Association of Statutory Health Insurance Physicians). They will arrange an appointment for you with a psychotherapist near you. You can find the exact office hours and contacts here:

The first steps towards therapy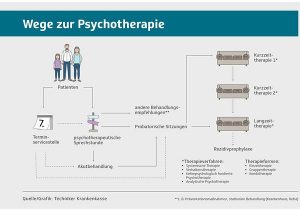 The Psychotherapeutic Consultation Hour:
When you go to a therapist for the first time, it is during the so-called psychotherapeutic consultation. In this consultation, your psychological complaints and whether you need treatment are discussed. The psychotherapeutic consultation serves to get to know you and to assess your current situation and problems. Up to six appointments of 25 minutes each can be made for the consultation. However, appointments are often combined so that there are three appointments of 50 minutes each.
The Probationary Sessions:
If the counselling sessions have gone well and you want to start therapy, the first step is the so-called probationary sessions. In these sessions you can check whether you get along with the therapist and whether psychotherapy is right for you. Two probationary sessions are obligatory, but the number of sessions covered by the health insurance can vary (often 4). At the end of these sessions, an application for therapy is made together with the therapist.
Acute treatment:
If you are in urgent need of help and the therapist also identifies this in the consultation, you will receive a written recommendation for acute treatment. You will need this written recommendation especially if the psychotherapist has no more appointments available. An acute treatment consists of up to 24 sessions of 25 minutes each. These can also be combined.
Therapy procedure
There are different methods that can be used to treat mental illness. They have different focuses and work differently depending on the type of mental illness. If you are unsure whether the therapist's method suits you, talk about it. Your therapist will also advise you in this regard and help you find the best way for treatment.
You can find a detailed explanation of the individual methods here:
https://www.wege-zur-psychotherapie.org/die-behandlung-in-der-praxis/#verfahren
Psychologist, Psychotherapist & Psychiatrist?
Psychologist
A psychologist has studied psychology at Bachelor's and Master's level and can work in a wide range of professional fields. Many psychologists complete further training to become psychological psychotherapists. Only then are they allowed to offer psychotherapy.
Psychotherapist
A psychotherapist has either studied psychology, education or social work and subsequently completed training as a therapist. His/her title is protected by the licence to practise and he/she works with scientifically recognised psychotherapy methods.
Psychiatrist
To become a psychiatrist, you first have to study medicine and then become a specialist in psychiatry and psychotherapy. Psychiatrists can prescribe medication and order admissions and referrals.
Alternatives to outpatient treatment
In some situations, outpatient therapy is not sufficient and admission to an inpatient or day-care facility is necessary. Inpatient facilities have the advantage that you can be treated more intensively and comprehensively there and in acute crises there are contact persons directly on site. The physical distance from stressful situations at home, at university or at work can also help. Clinics usually offer a combination of different treatment methods and therapies. After a stay in a clinic, it is advisable to continue treatment on an outpatient basis so that you can settle back in well and to avoid abrupt breaks in treatment. The situation is similar with partial inpatient facilities. You will also receive more comprehensive treatment there, but you will only be there for the day. If you are already thinking about an inpatient or semi-inpatient stay, you can also contact the PAS (see above for information), which will advise and support you on this path.
Further information here:
https://www.wege-zur-psychotherapie.org/die-behandlung-im-krankenhaus/
Funding
The costs of therapy are generally covered by the statutory health insurance. It is important that the therapist is licensed by the health insurance company. For people with private health insurance, it depends on the respective contract what the health insurance company will cover. In such cases, you should contact your health insurance company for more information.
For the financing of a therapy, a diagnosis is needed, which the therapist will make and discuss with you in the probationary sessions. The diagnosis is only made after the consultation and the probationary sessions, so you can try out in peace whether you feel comfortable with the situation and a diagnosis is not imposed on you right at the beginning.
Further information
If you still have unanswered questions, you can find more detailed information on the following website, for example:
https://www.wege-zur-psychotherapie.org/
You are also welcome to make an appointment at our office hours and we will try to help you. Of course, we cannot offer professional counselling, but we are happy to talk to you about your concerns from student to student and try to help you to the best of our ability.
You can find a detailed list of counselling and support centres here.